Site visit: How an East Midlands architect is offering a very real glimpse of the future to clients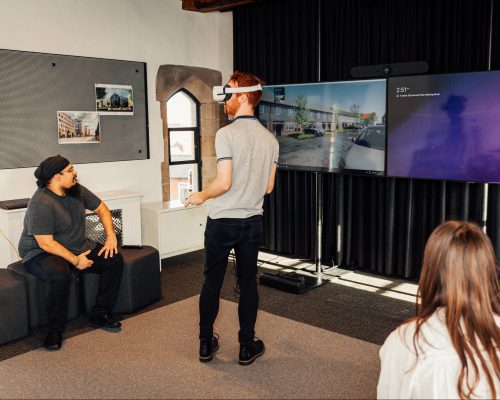 An East Midlands firm of architects is harnessing the latest in virtual reality (VR) technology to power its burgeoning masterplanning capabilities.
Franklin Ellis Architects, which offices in Nottingham, Leicester and London, says it has seen "significant progress" in a number of long-term masterplanning projects in recent months across both the East and West Midlands.
A recent visit to the company's Nottingham offices saw me meet key individuals involved in the masterplanning team, while at the same time given a test drive on its new VR capabilities.
The top floor of Franklin Ellis Architects' fantastic offices on the edge of the Park estate in Nottingham is home to a new suite which offers a fully immersive VR experience to clients and associates, allowing them to view completed schemes "in a way rarely embraced" by the industry.
The firm has operated BIM workflows from scheme inception to completion for more than a decade, and the new facility represents a logical next step according to MD Matthew Branton.
He said: "Our delve into VR is a natural progression, as we seek to optimise our workflows and presentation, and offer our clients the chance to experience their projects, long before they begin to take shape in reality.
"This technology is a great leap forward from the realistic CGI images we produce inhouse. Though CGI offers a still image of the true representation of a building, VR conveys, scale and light fantastically, how a development interacts within a streetscape, how the space actually feels to be within, making it an unsurpassed tool for exhibiting to planning authorities and other stakeholders."
As I found out when I donned the VR headset, the suite creates a use experience of buildings akin to actually standing in one.
Branton added: "The clients we have exhibited to so far have been amazed by the level of detail in each space and the ability to explore their buildings room by room."
Associate architect and technology specialist Oliver Higgins said: "VR offers a great benefit to our clients as it allows them to engage with the process of design as well as realise the completed scheme in a way rarely embraced by our industry. As designers we can use this technology to speed up the decision-making process whilst avoiding costly changes once the design reaches site.
"The technology doesn't stop at being an exciting tool for our clients to see their future building. It helps us to design more efficiently, providing clarity about how a project will look and allowing us to create adjustments in the very early stages of a project, saving both time and money for our clients."
Franklin Ellis Architects is using this new-found expertise in much of is masterplanning work. The company recently received planning permission for a flagship Aston Martin dealership, on its scheme at The Green, in Solihull. This is a major milestone in a masterplanning process which started over seven years ago.
Matthew Branton, managing partner, said: "This is a great achievement by our team on a unique but challenging site with multiple stakeholders to consider, and many opportunities and constraints to balance through the design. Work on the Green started in 2015 and has since evolved in size and scope many times. We have collaborated with multiple housing and care home developers, several car manufacturers and other commercial enterprises throughout development of the scheme, always aiming to achieve the best outcome for the site and our client, M7.
"We're incredibly pleased that the journey has come to this point and are proud to be providing Aston Martin's regional base, and a striking new showroom. We look forward to taking this development to completion."
While some master plan projects are guided by a clear vision from the client, The Green evolved in the face of a changing market, said Branton.
The site was already occupied by an incumbent tenant, ZF, who were considering consolidating their business and staying on the site. To helps its client assess the viability of this in terms of land take and logistics Franklin Ellis worked closely with ZF to understand their business, their operational needs and future growth ambitions. This work involved detailed option appraisals across the site to assess the area required and ultimately proved that it was not the right solution, this meant the masterplan could be developed in its entirety.
Franklin Ellis's role in the development of the masterplan included collaboration with the land assembly team, city council, urban development funds, national house builders and other commercial operators. The firm's brief was to develop the right solutions for the site, balancing the financial and strategic objectives of developers with the requirements of the potential tenants.
Franklin Ellis took a similar approach on its masterplan for Everards Brewery in Leicester. Now entering Phase II, Everards Brewery's aspiration was to develop their new headquarters into a site with a "campus feel," while providing a home for visitors to experience the full Brewery process, from production, to tasting in the new Beer Hall. Franklin Ellis undertook a detailed review of all of the businesses facilities to gain an understanding of its operational needs and growth ambitions, ensuring the final design would accommodate future expansion.
Branton added: "Everards Brewery had a vision for the destination they wanted to create. We aimed to give flexibility in use classes for buildings and worked based in local framework requirements. The site was originally a meadow, providing us with a blank canvas to envisage the best possible outcome for Everards. We're excited to begin Phase II which will truly solidify the 'campus feel' set out in our original master plan.
"We've gained significant brewery specific experience throughout our time with Everards and provided a vibrant new home for this local brand – we're looking forward to taking these achievements forward into our next exciting Brewery development project."
Everards Brewery site was approached by Franklin Ellis as a high-level strategy development, aimed to create views across the meadow site, arranged around a main spine access road. The development uses high-quality, natural materials including timber, stone and zinc to allow it to sit comfortably in its surrounding.
The award-winning Phase 1a built a Cycle Centre and café, and created a footbridge across the River Soar, effectively linking the site to the surrounding residential area. Phase 1b included the new brewery, high-quality office headquarters, for which Franklin Ellis has extensive experience, and addressed Everards desire to provide a visitor destination with a new Beer Hall.
With thanks to Petra Ackers for organising my visit to Franklin Ellis Architects.