Latest arrivals at Sci-Tech Daresbury's Violet facilities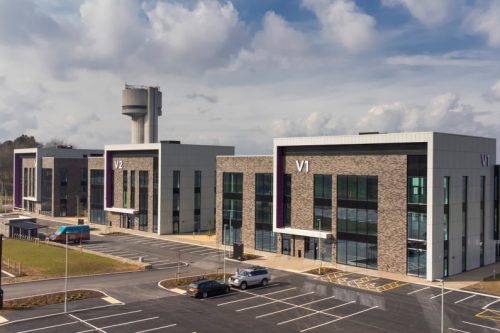 Sci-Tech Daresbury has announced the latest arrivals to its new Violet development, with two firms scaling up their operations within the campus to take up space in the complex.
It follows the arrival of automation specialists, Peak Technology Solutions, earlier this month, and Australian firm Blackmagic Design and China's Geek+, whose arrival at Violet was announced in April.
Their decision to expand operations within the Liverpool City Region campus reflects the strength of Sci-Tech Daresbury's Home for Life ethos, it said. This allows businesses to achieve their ambitions within the campus, with firms offered the technical support, world class facilities and access to local and national networks needed to become trailblazers in their chosen field.
ORCHA – the Organisation for the Review of Care and Health Applications – was previously based at Vanguard House at the campus and has grown from an innovative health concept to the world leader in health and care app assessments in just six years.
With a mission to drive standards and help NHS and care organisations across the world to capitalise on the power digital health apps have to offer, ORCHA is experiencing a boom in demand and, as a result, is on a major, global recruitment drive. The company's new 4,500 sq ft base within Violet will support the creation of 100 roles.
Liz Ashall-Payne, founding CEO of ORCHA, said: "We're moving ORCHA to the Violet building because we need the space due to a period of very rapid growth and we have just been through another investment round that's given us the capital to invest in our team.
"We've tripled our workforce over the past 12 months – our headcount is currently 140 but that'll be rising fast. Our plan is to operate a hybrid model, where teams come together to work from the office for two to three days per week. We'll have 32 permanent desks but by working collaboratively we should be able to accommodate 75 people comfortably."
MCS – the Microgeneration Certification Scheme – defines, maintains and improves quality by certifying low carbon, small scale renewable technologies and contractors, including heat pumps, solar, biomass, wind and battery storage.
Previously based at Sci-Tech Daresbury's Innovation Centre, MCS aims to decarbonise heat and power in the UK's homes by giving people confidence in home-grown energy.
Ian Rippin, CEO of MCS, said: "We have been based at Sci-Tech Daresbury for several years now – having relocated our operations from London. In that time, we have committed to nurturing a local, green workforce and have grown our business significantly.
"As such, our team now exceeds more than 30 people, so we have outgrown our previous home. Our investment in a purpose-built, high specification workplace at Violet – in the heart of a buzzing technical campus – will continue to reflect our values of collaboration and help to foster even more talent within MCS well into the future."
MCS was advised on its lease by DTM Legal.
Violet was officially handed over by contractors Willmott Dixon in February. The £17.8m development comprises 43,000 sq ft of speculative Grade A office and innovation space, coupled with the highest energy efficiency standards, for dynamic, forward thinking science and technology-focused businesses.
Violet is expected to create or support 332 full time equivalent jobs and has received £8.4m cornerstone funding from the Liverpool City Region Combined Authority, consisting of a £2.5m loan from the Urban Development Fund, together with £5.9m from the Combined Authority's Chrysalis Fund, both funds being managed or advised by igloo Investment Management.
Violet encompasses two buildings, V2 and V3, providing 12,000 sq ft each and one building, V1, of 19,000 sq ft. Each building entails floor plates of around 4,300 to 6,300 sq ft.
John Downes, chief executive of site owner Langtree and director of Sci-Tech Daresbury, said: "These companies are all leaders in their field, setting the standards for what UK innovation and technology can deliver. It has been our privilege to help nurture their journey over recent years as they have expanded their operations and brought jobs, knowledge and growth to the Liverpool City Region."
In December, planning approval was granted by Halton Borough Council for Ultraviolet, which is located next to Violet and forms the next phase of development within Sci-Tech Daresbury.
Ultraviolet will comprise a further 180,000 sq ft of Grade A office and laboratory space.