Developer submits fresh apartments plan for Digbeth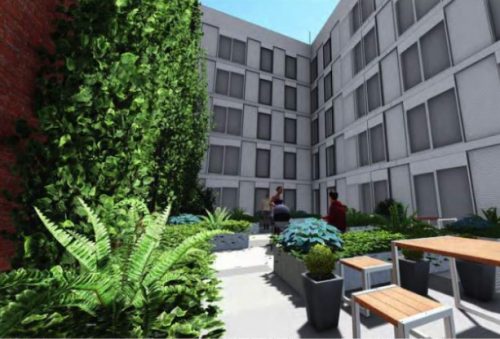 Developers have submitted plans for a new apartment building on the site of a commercial unit in Birmingham.
Prosperity Developments proposes the redevelopment of 150-159 Moseley Street in Digbeth to create a six-storey apartment building housing 67 flats. These would be a mixture of 43 two-bedroom flats and 24 one-bedroom units.
The land is currently the site of a commercial unit used for sorting and packaging recycled clothes, together with an open yard.
The site is bounded to the west by industrial buildings comprising the former Westminster Works. Planning permission has been granted to redevelop this site into 141 apartments within a five to seven storey building.
The site of the proposed development is opposite the St Anne's Hostel and the Paragon Hotel, both Grade II listed buildings.
The proposed development would be a six-storey block with a continuous elevation along Moseley Street. The building would be 'H' shaped to allow for parking to the west of the site. The building would also feature an overhanging landscaped deck and a courtyard to the east.
There would be parking for 10 vehicles, together with 50 cycle spaces.
A design statement submitted with the plans states that Digbeth is undergoing widespread regeneration and the area is becoming more desirable for residential accommodation due to its proximity to the city centre and its strong transport links – links that will be enhanced with the extension of the Midland Metro.
Developers have said the scheme is designed to work within the changing context of the area, which is likely to become more residential in nature as further regeneration takes place.
"It is sensible to anticipate the changing context and design something that could accommodate a number of changes to the surroundings," it states.
"The proposal mediates between the smaller, existing context and the newer, proposed future context. The proposal does not negatively impact on the potential of the adjacent sites, allowing future development to sit comfortably."
The plans are the second major scheme unveiled by Prosperity in as many weeks.
It is also behind a new proposal to develop a seven storey building next to Birmingham's Mailbox.