St. Modwen submits plans for final phase of gateway scheme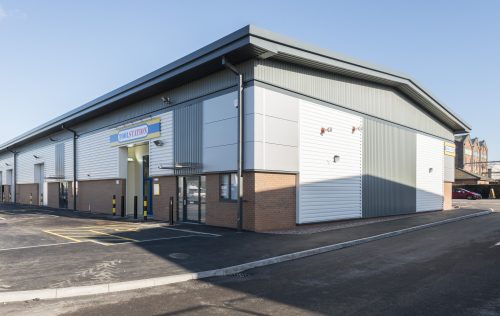 St. Modwen has submitted plans for the final phase of development at its Albion Gateway site in Staffordshire.
The proposals include up to 87,600 sq ft of commercial space.
The Burton-upon-Trent-based scheme has already secured two tenants. Door & Joinery Solutions is set to take up 9,145 sq ft, while MKM Building Supplies will take 13,400 sq ft, meaning 25% of the space has been snapped up ahead of building work starting this June.
The remaining 65,055 sq ft will be available to let or buy, with 17 units, ranging from 2,500 – 24.470 sq ft, expected to be completed by early 2019.
Ian Romano, Head of Commercial, Midlands and North, at St. Modwen, said: "There's a clear need for more commercial space in well-connected areas – as evidenced by how quickly two tenants have come on board, and the fact that the commercial space we outlined in phase one of the development is now at 100% occupancy.
"This extra space is in a prime location and feeds into St. Modwen's ongoing strategy to identify and maximise sites that are ripe for commercial development".
Paul Rushton, director at Rushton Hickman, said: "There is a shortage of supply of good quality, modern industrial and warehouse premises in Burton-on-Trent and this offers an excellent opportunity to satisfy current demand. It is particularly encouraging that the units will be offered for sale as well as to let, giving a choice of options to occupiers.
"We experienced good demand for the first phase of the development and we expect a similar response for the new development once we commence our marketing shortly."
Albion Gateway is a mixed-use site covering 10 acres of land. It benefits from strong transport links, being close to routes including the A38, A50 and A511.