Team Nottingham kicks off MIPIM with promise of announcements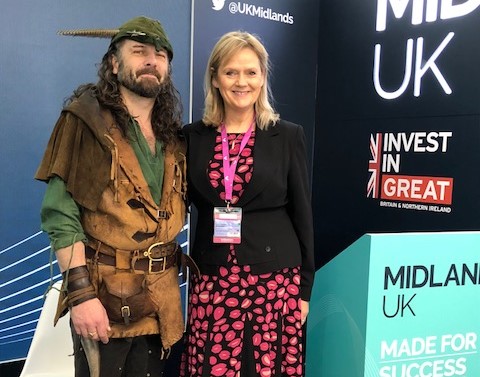 A visit by Robin Hood kicked off Team Nottingham's MIPIM schedule this morning, as the city geared up for its annual Dinner event this evening.
The famous outlaw joined Invest in Nottingham's Lorraine Baggs on stage as inward investment chiefs promised "two or three" announcements on future developments at this evening's event.
Nottingham is showing off more than £2bn of development opportunities at MIPIM this year.
Team Nottingham will be showcasing 30 different sites featured in the Nottingham Investment Opportunities portfolio.
The team says that Nottingham is "experiencing a once-in-a-generation period in its development" – with the opportunities highlighted within the brochure as well as on a Nottingham development map which has been designed by Deetu.
Lorraine Baggs, head of investment at Invest in Nottingham, said: "This is a really pivotal time for Nottingham in terms of regeneration and development. Significant progress has already been made in delivering a new and improved Nottingham.
"The transformation of the Southern Gateway is picking up pace; plans for the redevelopment of intu Broadmarsh, the car park and nearby Nottingham College 'City Hub' are all progressing, with further developments planned nearby.
"We have really upped our game in terms of place marketing in the city and promoting inward investment and regeneration in the city and MIPIM is a great place showcase the significant opportunity there is in Nottingham. We are able to put Nottingham firmly on the map, getting in front of international investors and developers.
"MIPIM provides a golden opportunity for what will be Nottingham's largest private sector delegation ever to showcase the opportunities and vision around what is the most significant transformation in the city for many years. The partnership between the public and private sector goes beyond our presence at MIPIM and there is genuine excitement and optimism about what's coming next."