Last chance to have your say on the future of Lincoln – book today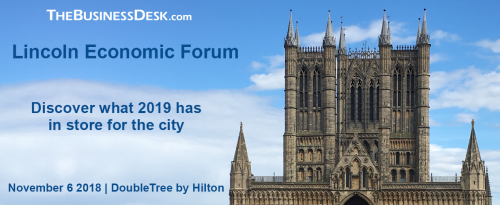 Lincolnshire business leaders are set to come together again this year for TheBusinessDesk.com's Lincoln Economic Forum – a chance to debate the latest developments in the city and wider county.
Yet again, we've put together a stellar panel of regional big-hitters who each have a stake in the future economic success of one of the UK's fastest growing cities, and free tickets are now available for the event which takes place on Tuesday 6 November, from 8am until 9.30am at Doubletree by Hilton.
Joining the panel are:
Lydia Rusling, chief executive, Visit Lincoln
Rob Richardson, senior development manager, St Modwen
Dominik Jackson, founder, Jackson & Jackson Developments
Paul Edwards, managing director, James Dawson
The Lincoln Economic Forum will discuss the latest developments in the city, and what they'll mean for business owners in the region – and those looking to relocate to this fast-growing city.
Our expert panel will discuss what the £150m redevelopment of St Marks will bring to the city, how the vast swathes of student accommodation being built will affect the make-up of the city, how new and existing industrial and employment sites are driving new job opportunities forward and how the University and local businesses can work together to ensure that students graduating stay to work and live in the city.
We'll also take a look through new brownfield sites being targeted and brought forward by developers keen to take advantage of Lincoln's reputation as one of the UK's fastest-growing cities.
The panel will also look at the investment being made into tourism, how the new transport interchange is helping drive visitors to the city and what the Cathedral, Castle and new hotels mean for the economic development of the city.
This is your opportunity to discuss your involvement in driving Lincoln's economy forward and join in the debate as to how the blueprint for the city's future is drawn up.