Leicester diversity and inclusion champion welcomes global brands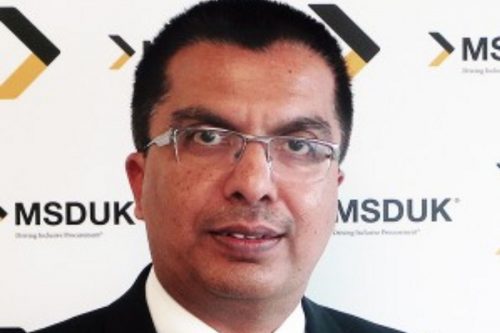 A Leicester organisation which champions supplier diversity and inclusion of ethnic minority businesses in supply chains has added five major organisations to its membership after issuing a call for action this summer.
On June 30, MSDUK urged FTSE100 and global firms with a presence in the UK to commit to supplier diversity and increase their engagement and spend with ethnic minority businesses.
July saw Unilever, WPP, Coupa, Fidelity Insurance and pladis Global join MSDUK's growing corporate network, which is made up of a wide range of multinational businesses.
Mayank Shah, founder and CEO of MSDUK, said: "MSDUK is committed to leading from the front to bring about this socio-economic change. A growing economic inequality sits right at the heart of social injustice, poor health, housing, and education levels within Ethnic Minority Communities across the UK.
"The Black Lives Matter movement has had a huge impact on every one of us. We are seeing a collective response from corporate leaders, who are not only releasing statements of support but are announcing actions and measures to tackle these issues. Supplier Diversity has a multiplier effect to economically empower communities as it encourages entrepreneurship in disadvantaged communities."
On 17 June 2020, WPP announced a set of commitments and actions to help combat racial injustice and support Black and minority ethnic talent including investing $30 million over the next three years to fund inclusion programmes within WPP and to support external organisations.
Tig Matthews, CPO, WPP, said: "We are committed to embedding an inclusive and diverse supply network across WPP. Working with MSDUK will help us give minority suppliers from all communities the opportunities they deserve as well as bring different and innovative perspectives into our business.'
Coupa Software is a global technology platform for Business Spend Management.
Rod Robinson, VP, supplier inclusion & sustainability said: "As the leading supplier diversity and inclusion certification and advocacy organisation in Europe, MSDUK has played an integral part in advancing the growth and development of ethnic diverse businesses globally in support of several of our key customers and partners around the world. We are excited to join in support of this mission."
Another big name to join MSDUK is pladis Global, one of the world's leading snacking companies and home to brands including McVitie's, Jacob's, Flipz and Ulker.
pladis CEO, Salman Amin, said: "We are on a journey at pladis to improve our own inclusion and diversity practises and to make meaningful and impactful change. But I know that to have real impact, it takes an entire community standing and working shoulder-to-shoulder.
"That is why we must not only look within our business but also consider our relationships and partnerships across all of our operations to ensure true diversity in our supply chain.
"We are delighted to be joining MSDUK who we believe are the right partner to guide and support us on this journey."
Shah added: "We are absolutely delighted to see such a swift response to our call to the private sector to do more. These global brands have not only shown their commitment to engage with ethnic minority businesses but have already helped to open up so many supply chain opportunities for businesses to engage by publicly joining our campaign. The MSDUK team is hugely looking forward to working with them all to make a real change for the better."