Funding deal to kick off new 35,000 sq ft office scheme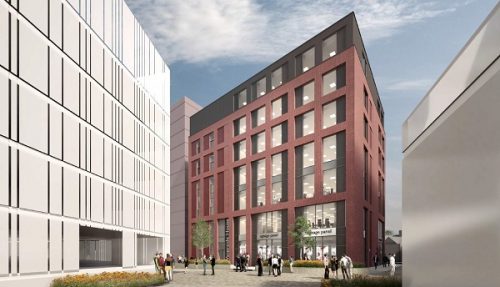 A new seven-storey office building in the Basin Square neighbourhood of the £340m Chesterfield Waterside scheme has moved a step closer with the news that construction is due to start in October.
Chesterfield Borough Council says it has secured a forward funding agreement with the developer, Chesterfield Waterside.
Tenants have already been secured for some of the Grade A office accommodation, enabling the developers to bring forward construction of the 35,000 sq ft building, which is being overseen by Bolsterstone Group.
Peter Swallow, managing director of Bolsterstone Group, said: "Chesterfield Waterside continues apace. Since receiving planning approval for the office accommodation last year, I am delighted that we have been able to secure tenants and bring forward the delivery of high-quality office accommodation for Chesterfield in conjunction with Chesterfield Borough Council.
"It is an exciting time for Chesterfield Waterside with Avant Homes also building out new homes in the Waterside Quarter neighbourhood. Despite the pandemic, 2020 will be a formative year for the scheme with a significant amount of construction activity planned and more investment proposals in the pipeline, benefitting the local economy."
The new office building, known as No.1 Waterside Place, is the first step in delivering the commercial element of Chesterfield Waterside's Basin Square neighbourhood.
Cllr Tricia Gilby, leader of Chesterfield Borough Council, said: "We're delighted to be bringing forward this state-of-the-art office building with Chesterfield Waterside, which will deliver supply chain opportunities for local companies during the construction phase and new jobs for local people with the companies that will be taking space at No.1 Waterside Place.
"These are uncertain times, but we must not stand still. We must continue to invest in this and other growth projects if we are to meet the council's objectives of making Chesterfield a thriving borough and improve the quality of people's lives. No.1 Waterside Place is just the start of what we believe will be a very special journey for the people of this great town and borough."
Construction of the offices is expected to be completed in August 2021. Britcon (UK) has been appointed as the main contractor.
Chesterfield-based accountancy firm BHP Chartered Accountants will occupy an entire floor within the building. The firm will be relocating its Chesterfield office to No.1 Waterside Place to benefit from the high-quality specification and unparalleled location at Chesterfield Waterside
Basin Square is the first commercial element of Chesterfield Waterside. When complete, the £75m Basin Square neighbourhood will also see the delivery of 320 Built-to-Rent apartments, a hotel and multi-storey car park.
FHP Property Consultants and Knight Frank have been appointed as letting agents for the office space at Chesterfield Waterside.