Bid launched to bring back our Banksy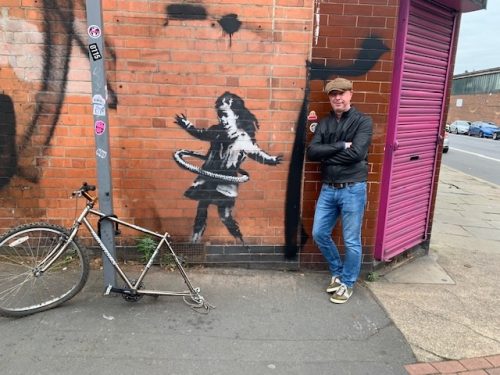 A campaign has been launched which aims to bring Nottingham's Banksy, "Hula Girl" back to the city.
Mike Horseman said he feels "very strongly that a momentous gift to the city has been kidnapped from under the city's nose". His campaign hopes to gather support so that everyone in Nottingham joins together to crowdfund the purchase of "Hula-Girl" from the private gallery who now own it and bring it back to Nottingham.
"Hula Girl" first appeared on the corner of Rothesay Avenue and Ilkeston Road, Radford in October last year and drew crowds of people wanting to see it.
Horseman said: "I think I shared the same feeling as many in the city when I heard the news that Banksy had chosen Nottingham for his latest piece of artwork. It was so exciting and something so positive in a year that many of us would rather forget. I loved joining the queue to see it, sharing the wonder and excitement with others, young and old, that the people of Nottingham had been given such a joyous piece of art. What a wonderful morale booster for us all! The fact it was where it was, and with the bike referencing the former Raleigh factory, struck a chord with me as it did with many."
However, in February, the Banksy was removed overnight, having been sold by the building's owner and purchased by John Brandler of Brandler Galleries, Brentwood, Essex.
Horseman, continued: "When I heard the news that it had been removed, I was furious. I feel that this is art 'of its place' and the artist chose it to be there for a reason. It was a gift to Nottingham and its removal and eventual relocation to a Gallery 120 miles away in Bury St. Edmunds, means its intended audience have been robbed of the opportunity to access it. I would like to change that and hopefully, buy it back so people in Nottingham can enjoy it again. Let's all get together and do something positive for our city."
"Whilst I appreciate that for its longevity the Banksy needed to be relocated, surely a city like Nottingham which boasts of its industrial, cultural and artistic heritage and has several well-regarded galleries, could have welcomed 'Hula Girl' to a city centre location and preserved it and its story for posterity. I also want to shake the hand of the creative genius who put up the poster in its place this weekend – a masterstroke! Do get in touch with us via our Facebook page."
Already receiving support on social media from Lillian Greenwood Nottingham South MP, Horseman is now intending to enter a conversation with Brandler Galleries to ascertain a purchase price. He has also started a change.org petition to gather support and is calling on people in Nottingham and art fans across the UK to come together and ultimately crowd fund its purchase. The Nottingham residents who sold the Banksy will also be invited to make a "substantial" contribution to the cost of its re-purchase.
Depending on the outcome of his negotiations, Horseman will be leading the search for a suitable city centre location for "Hula Girl". He has hinted that could be in the Nottingham Contemporary or even the Victoria Centre.
Horseman added: "With a concerted effort, it should be possible to rectify the alleged error made by the great and the good of the city and its art community who, according to John Brandler, are responsible for allowing 'Hula Girl' to leave her wall in Nottingham. The onus is on us all to work together to ensure we have our Banksy back."
If you would like to get involved and show your support please sign the Change.Org petition here https://www.change.org/p/nottingham-city-council-bring-the-banksy-back-to-notts