Architectural practice ramps up digital offering with innovative VR suite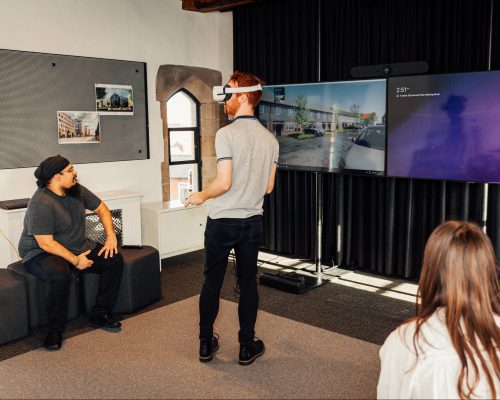 Franklin Ellis Architects has installed a dedicated Virtual Reality suite on the top floor of its listed offices in Nottingham city centre.
The firm's new suite offers a fully immersive VR experience to clients and associates, allowing them to view completed schemes "in a way rarely embraced" by the industry.
The firm has operated BIM workflows from scheme inception to completion for more than a decade, and the new facility represents a logical next step according to MD Matthew Branton.
He said: "Our delve into Virtual Reality (VR) is a natural progression, as we seek to optimize our workflows and presentation, and offer our clients the chance to experience their projects, long before they begin to take shape in reality.
"This technology is a great leap forward from the realistic CGI images we produce inhouse. Though CGI offers a still image of the true representation of a building, VR conveys, scale and light fantastically, how a development interacts within a streetscape, how the space actually feels to be within, making it an unsurpassed tool for exhibiting to planning authorities and other stakeholders."
The suite creates an experience of buildings akin to physically standing in one.
Branton added: "The clients we have exhibited to so far have been amazed by the level of detail in each space and the ability to explore their buildings room by room."
Associate architect and technology specialist Oliver Higgins said: "VR offers a great benefit to our clients as it allows them to engage with the process of design as well as realise the completed scheme in a way rarely embraced by our industry. As designers we can use this technology to speed up the decision-making process whilst avoiding costly changes once the design reaches site.
"The technology doesn't stop at being an exciting tool for our clients to see their future building. It helps us to design more efficiently, providing clarity about how a project will look and allowing us to create adjustments in the very early stages of a project, saving both time and money for our clients."