Crisis at Scunthorpe United as Nottingham businessman withdraws all funding from club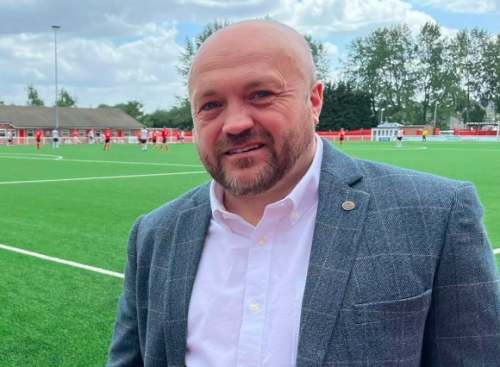 David Hilton, the under-fire owner and chairman of troubled Scunthorpe United FC, has withdrawn all funding for the club.
In a statement on Thursday lunchtime, Hilton also said he had told his board of directors that he feels his position at the club is "untenable", and is "actively seeking a way out". Following the news, directors Ian Dawson, a partner at law firm Knights, and Tahina Akther, barrister and owner of Wildcat Law, have decided to resign from their positions with immediate affect.
The statement added: "We can confirm that numerous parties have made contact with the club with a view to taking over, but faced with stadium issues, numerous litigation proceedings and winding up petitions no potential purchasers are looking to move forward. This includes the consortium of local business people and supporters."
Hilton says he and the remaining board members have set out a plan in order to "very quickly" make the club sustainable.
An outside company will be bought in to work closely with the club's creditors to try and ensure all are paid "in a timely and professional manner".
The club will leave its Glanford Park home after the Brackley Town fixture on October 7 and try and say they will try finish the season's fixtures across at Gainsborough Trinity, some 30 miles away. Some might say that simply finishing this season at all will be considered a triumph.
The statement added: "This is not a day-to-day cost cutting exercise. This is due to Coolsilk refusing to engage with the club and demanding vacant possession before they will begin to do so.
"This is also due to the risk the club faces of being liable for hundreds of thousands of pounds in legal fees and back dated market rent, along with significant monthly legal costs of our own that will certainly impact any attempts to create sustainability. In any case, Coolsilk own the property and will undoubtedly get possession back at some point, and therefore it is no longer viable without the financial support of the Chairman to put the club at risk with such a gamble to merely guarantee a few extra months at the stadium."
Coolsilk is owned by former Iron chairman, the equally unpopular Peter Swann.
However, Gainsborough Trinity then issued a statement saying they knew nothing about a groundshare agreement.
It said: "The local SAG (Safety Advisory Group), Police and local authority would also need to issue the appropriate safety certificates, which are not currently in place."
To add further to the chaos, this statement was then deleted on Thursday afternoon.
The Iron also confirmed that Hilton is under investigation by the FA for matters that were reported to them by The Athletic prior to releasing their article. Documentation is being provided to the FA in order to evidence the validity of his ownership rights and expect it to be "concluded imminently".
Responding to screenshots shared widely in local and national media of an alleged text message conversation between Hilton and a fan, in which Scunthorpe United fans were called "spastics", the club said: "Numerous fake club statements and messages have been circulating in recent days. We can confirm that no investigation is currently taking place to our knowledge and that all of the material is completely fake. We are appalled by its content.
"Moving forward, the club can progress and challenge for promotion as originally planned. The playing side can be left relatively untouched and the debts cleared, but it will require supporters, sponsors and the community to be patient and continue to support the club the way they have done over the last few months.
"Falls in attendances will undoubtedly mean further cuts and this will inevitably impact the playing squad and promotion aims.
"We hope that the support continues regardless of how uncomfortable some of the decisions feel or the inconvenience those decisions will cause."
Hilton then remarkably took to Scunthorpe's Facebook fan page to try and defend himself. Responding to a fan who said the club was in a worse position than under Peter Swann, he replied: "You didn't have a fucking stadium under Swann. He stole it, do you forget that? Under Swann you were weeks away from going bust.