Staff share £2m bonus as John Pye posts record results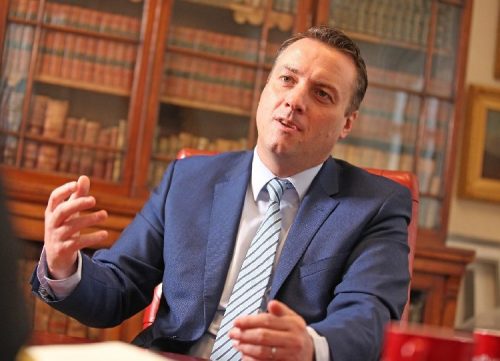 Staff at Nottingham-headquartered auction house, John Pye & Sons, are set to receive a £2m bonus after the firm posted record results in its latest financial year.
For year ending 31st July 2023 the firm saw auction receipts hit £119m and turnover reach £45m, up 36% on the previous year. With new bidder registrations up 90% year on year it has been a record year all round.
Adam Pye, managing director at John Pye & Sons – a recent member of the judging panel at this year's East Midlands Business Masters Awards, said: "These are incredible figures for our business. The team has worked so hard on several high-profile projects and achieved more than we ever thought possible during the period.
"I'm so pleased to report that we have again built upon the success 2022 and am happy to confirm that we're in the fortunate position of being able to share discretionary bonuses with colleagues in their November pay."
Last year the family business paid out in excess of £1/3m. Based on this year's results, the John Pye board has agreed to the largest profit share in its history, at £2m.
Pye added: "Launching our in-house bespoke auction bidding platform has seen improvements in client reporting as well as customer bidding activity. We are noticing more people turning to auction as a way to find potential bargain, particularly during these trying economic times. Large appliances, household goods and homewares are very popular among new bidders. We have seen a real spike in registrations from savvy shoppers and we now have approaching one million registered buyers.
"I'm personally so proud we share our success like this as business, particularly in the hard times certain businesses and individuals find themselves in. Every person in each band is so deserving of this reward, the hard work and commitment the team put in on behalf of John Pye's really is appreciated."
In addition to the discretionary Christmas bonus, John Pye also gives exceptional employees the opportunity to win £6,000 each quarter. John Pye's "Employees of the Month" are eligible for a chance to receive the Don Burton Award, in memory of long-serving Don Burton who went above and beyond expectation in his 36 years at the firm.
Last financial year included several high-profile insolvencies with John Pye being appointed by administrators to manage the sale of stock on behalf of homeware and furniture designers MADE.COM, cyclist equipment firm, Moore Large & Co and high street furniture retailer, The Sofa Workshop.