Promote your business through thought leadership on TheBusinessDesk.com
TheBusinessDesk.com is a great platform for you to promote your business and its key people. With a range of content-led ideas and offers, now is the time to get your thought leadership on the region's leading business news website.
Webinars
TheBusinessDesk.com's webinars have proven popular during lockdown, attracting a relevant and senior audience for a wide range of topics, including SME finance, the Northern Powerhouse, commercial property, cyber-security, and leadership.
Up to five business leaders and experts – including you, as sponsor – discuss the key issues of the topic in a panel discussion chaired by TheBusinessDesk.com.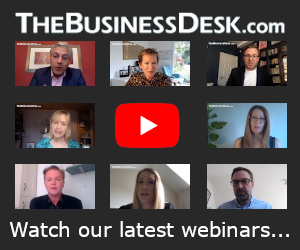 We work with you to shape the discussion themes then we look after all aspects of the webinar, including bringing together the panel of experts and industry voices and attracting an engaged audience.
The webinar is available to watch again in full, along with highlight clips, which is also promoted through news stories on TheBusinessDesk.com that focus on the key points from the discussion.
Round Tables
Whether delivered virtually or in-person in the autumn, round tables are a fantastic way to meet and engage with some fantastic and influential people.
TheBusinessDesk.com positions you as a thought leader, enabling you to benefit from the editorial platform and our strong audience.
Viewpoint
TheBusinessDesk.com receives more than 300,000 unique visitors every month, including senior business leaders, decision makers and purchasers.
A viewpoint article, which goes direct to tens of thousands of people on the daily news email and is published on the regional home page, can deliver a powerful message.
---
There are a number of ways we can work together to showcase the expertise and raise the profile of your business and its key people.
Get in touch at sales@thebusinessdesk.com to start the conversation about how we can work together.