Recruitment firm relocates to Lace Market offices

Nottingham-based Distinct Recruitment has relocated in the city centre.
The firm has moved from its previous offices on King Street in Nottingham to 32-34 Stoney Street to a building owned by Shoby Properties. FHP Property Consultants brokered the deal.
Nottingham fit-out firm Office Innovations is working on a full refurbishment project on the office.
Working with Distinct's James Calder and Becky Downes, Office Innovations designed and fitted-out new meeting rooms, open plan spaces and beer fridges for staff and visitors.
Calder said: "Office Innovations have exceeded expectations throughout the project. They have always been flexible and accommodating around our requirements and nothing has been too much trouble. All of the contractors have been a credit to office innovations, both Kevin and Adam have been great to deal with and have always gone the extra mile to ensure the job was delivered to a high standard. I will have no hesitation recommending office innovations in the future."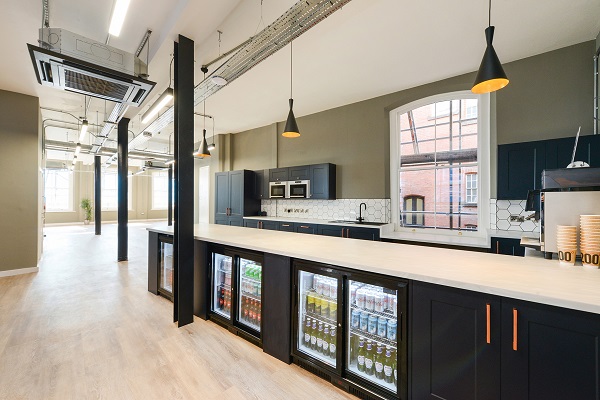 Karl Severn of Office Innovations added: "We are very proud to hand over Distinct Recruitment's new office, the space has embraced the industrial heritage of Nottingham's highly sought after creative quarter. The team at Distinct have been great to work with and we were pleased to be involved in creating such a forward thinking office. I look forward to joining James for a beer in their new office when we can!"
Mark Tomlinson of FHP said: "Just look at how the quality of office refurbishment in Nottingham's Creative Quarter has moved on – a great refurbishment on behalf of Shoby Properties completed by Office Innovations and handed over to a delighted tenant, Distinct Recruitment."