Council cool on proposed £200m office scheme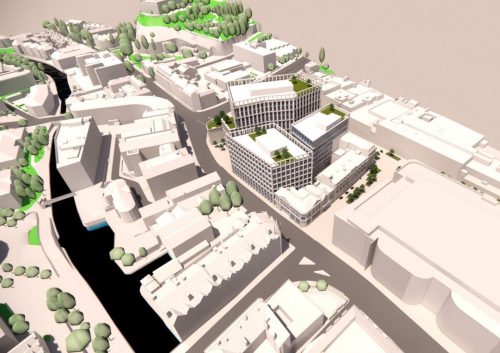 The £200m office scheme unveiled by Peveril Securities and Sladen Estates has received a cool response from Nottingham City Council.
The council has pointed out that the proposed scheme is on land it partly owns and land partly-owned by the developer, and that the scheme has been proposed "unilaterlly" by Sladen and Peveril.
The joint venture revealed yesterday outlined plans for New Albion Place, located next to the former Broadmarsh shopping centre site.
The plans include the redevelopment of two acres of land surrounded by Canal Street, Collin Street and Greyfriar Gate.
The £200m scheme could bring forward some 400,000 sq ft of office space and create 5,000 jobs in the city centre, said the developers.
However, in a statement late on Tuesday afternoon, Nottingham City Council said: "This is a proposal unilaterally put forward by a developer for land south of Collin Street that is not part of the former Broadmarsh shopping centre.
"No planning application has been submitted or considered in relation to the proposed development which is on land partly owned by the developer and partly by the City Council.
"Any proposed scheme on this land will be considered as part of the wider vision for the area, particularly focusing on the former Broadmarsh shopping centre footprint, which is currently being developed by the Greater Broad Marsh Advisory Group, an independent panel of local and national advisors established by the Council.
"No decisions have been made on the future of the Broadmarsh centre site. In creating a new vision for consideration by the Council, the Group will be using the views and ideas put forward as part of the hugely successful Big Conversation, the largest consultation carried out by the Council which generated over 3,000 responses and 11,000 comments."