'Confident' Nottingham set for more investment, says council leader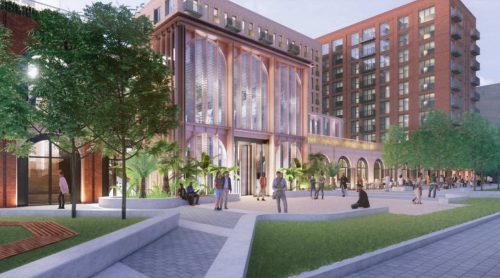 X

Register for free to receive latest news stories direct to your inbox
Register
The leader of Nottingham City Council has told TheBusinessDesk.com that the redevelopment of the Island Quarter site should provide confidence for more inward investment in the city.
Speaking at an event designed to celebrate the progress of Conygar's Island Quarter site, councillor David Mellen said that Nottingham is a place where people want to come to live and work – and that the huge scheme could provide a catalyst for further development at the nearby Broadmarsh site.
He said: "People now have confidence in Nottingham and it could be that the Island Quarter site will prove to be the spark to ignite ideas for the Broadmarsh site – or it be a case of it being vice-versa.
"We're confident that both sites will attract future investors into the city; when people see cranes in the sky it tends to give them confidence."
Christopher Ware, property director at Conygar, is set to unveil his vision for the Island Quarter at our forthcoming Invest Midlands online conference on May 26. Book your tickets to join him here.
Mellen said that the demolition of the western part of the former Broadmarsh shopping centre will be begin imminently – work which will open up the Lister Gate entrance to the city centre.
Turning his attention back to the Island Quarter, Mellen said that he hoped the planned 702-bed student scheme planned by developer Conygar would receive planning permission without any problems and pointed to the fact that there is still a need for more student accommodation in the city.
He added: "We still need to stop communities elsewhere in the city from being imbalanced towards students and the development at the Island Quarter will help that. We anticipate that the scheme will receive planning permission once it's been through the process – it's a very suitable site for that use."
The student scheme is set to be available for occupation from September 2023 and will include sky lounges that offer views across the city and a pavilion with views onto a private courtyard space.
The student accommodation will sit alongside The Island Quarter's plans for "intergenerational living" across the site, with rental apartments forming part of phase 1B – which is currently in for planning – and future plans for family housing.
Further plans include a pavilion called Canal Turn, a 223-bed hotel, over 240 build-to-rent apartments, co-working space and an extensive food and drink area, all designed by Jestico+Whiles.