Homeware manufacturer secures multimillion-pound deal with top US tool company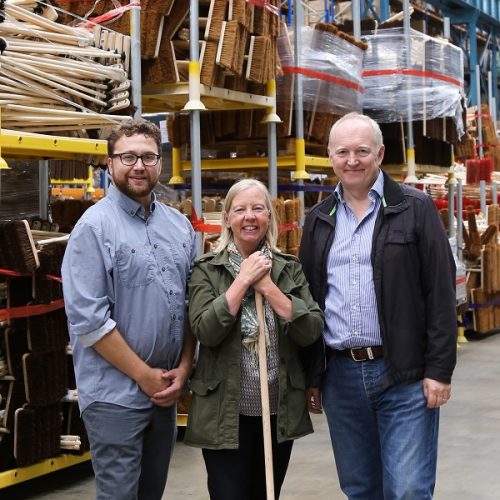 X

Register for free to receive latest news stories direct to your inbox
Register
A Loughborough family business which supplies homeware goods to some of the UK's top retailers has secured a multimillion-pound deal with a top US tool company.
Charles Bentley & Son will manufacture and sell over one million Marxman pens each year to US Tape in a £2.3m deal.
Steve Law, sales director at Charles Bentley, said: "After successful negotiations the first shipment of over 100,000 units left Loughborough last week and we expect to hit over a million pens a year by year three."
The unique Marxman pen, developed by inventor and co-owner Martin Chard, is an instrument that when depressed, sprays a burst of bright green chalk into the holes of a fixture helping to make alignment easier and a much simpler task. It makes drilling holes more accurate and saves construction workers and DIYers time.
Construction worker Chard invented the pressurised Marxman chalk pen to make his life simpler and his work more precise.
The pen is produced using a standard aerosol can and specially adapted nose cones to deliver the chalk shot. A non-toxic propellant delivers the chalk when the pen is activated.
In 2016, the unique tool caught the eye of Dragon's Den investor Deborah Meaden who was prepared to invest £50,000 for a 30% stake in the company.
Charles Bentley, managing director, added: "We work on a number of projects for Deborah Meaden, this is one such project and after taking on a licence for another of Deborah's investments, the plaster board fixing Gripit, it was a natural step to team up with Marxman to produce and distribute the marker.
"We have considerably increased the manufacturing capacity by developing and investing in more automation to the manufacturing process."
Bentley added: "Marxman is unique in the way it can deliver a non-permanent mark through any item that needs to be fixed in a certain position, the alternative would be using a pen or pencil, so it really is a one of a kind solution.
"We are delighted to work with Marxman to offer our expertise in developing product enhancements, packaging and other retail presentations. The partnership with US Tape is the first step in transitioning the product into the US market under new brand, Chalk Shot."