Round table report: 'Risk profile is increasing across the supply chain'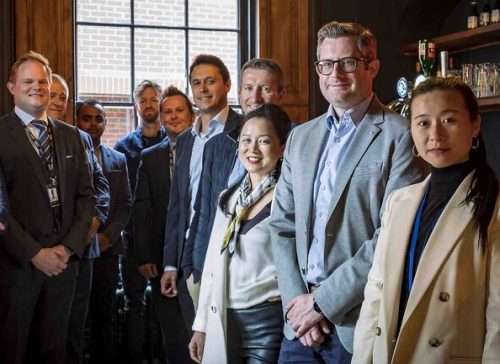 As the UK tumbles headlong into recession, the residential property sector is at a crossroads. Our latest roundtable saw leading property professionals from across the East Midlands assess the challenges facing the industry.
A perfect storm of soaring inflation, skills shortages and supply chain problems has conspired to slow down the residential property sector. Costs are rising – but what are developers and construction companies doing to mitigate against these pressures?
Our panel agreed that the answer partly depends on a firm's role in the supply chain. There is no one-size-fits-all solution to the conundrum of rising costs. Developers, construction firms and architects face sector-specific problems, they said, although some challenges are industry-wide.
Maz Patel, managing director at fit-out specialists Scope Construction, said "the work is there" but investors – particularly from overseas – seemed to be holding back.
Edward Acres, whose group of companies provides a host of services ranging from design to construction, said "overengineering" and bureaucracy – including procedures such as "pre-app approval" – were slowing schemes down.
Sam Monk agreed, highlighting inefficient bureaucracy in the planning process, which he said was "too long-winded." The developer also noted that professional fees such as legal costs had been "ramped up."
Dan Stack, operations director at Chevin Homes in Derby, said: "The industry, from top to bottom, is probably under-resourced. And we're moving bits of paper around. The work is there but resources are a problem."
All agreed with Jinny Yang's assessment that "risk profile is increasing across the supply chain" – and there was similar agreement in respect to the planning process.
Alan Forsyth, managing director at Hockley Developments, said that although the "pre-app" process sometimes entails little more than a five-minute chat, the time (and by inference, the cost) it takes depends on the council. He added that councils could be "inconsistent" in terms of the amount of paperwork they require.
So, how can the industry overcome these hurdles?
Acres – an architect by training – said that coming up with the right designs and finding the right team to deliver them was one the best ways to help drive down costs.
He added that it was imperative to "build adaptability into schemes" because "architects have a responsibility to the built environment in the longer term."
Tony Moore, managing director at Acres Construction, added that from a construction perspective, it was important to demonstrate to developers "that we are looking after them, and that we use our experience to make sure they get value for money."
If firms put more emphasis on efficiency and demonstrate their value to companies along the chain, they are more likely to build lasting relationships, the pair said.
Forsyth said that firms needed to be organised in terms of their ordering, particularly in light of supply chain challenges posed by Brexit.
Monk insisted that "everything is taking longer" because of Brexit – an assessment echoed by Dan Stack, who said that "because everything is a process, even the smallest parts are made more difficult."
Thoughts then turned to the ways in which landmark developments such as the Becketwell regeneration scheme in Derby might affect civic and business confidence – and to what extent.
Stack said: "They can't do any harm, but (in Derby) we need more than just one scheme. We've seen these grand claims before. I think what the University's been doing in the city might have more of a lasting impact."
Forsyth described the corresponding picture in Nottingham as "exciting" but sounded a similar note of caution.
"For these new developments to succeed, we need enough people on good incomes who can afford a nice apartment coming into the city", he said.
Nottingham, of course, has been boosted by the return of a certain football club to the Premier League. But how has this affected property scene in the city? Will we see a rush of new development? And what happens if Forest are relegated this season?
Monk said the city was "undeniably going to benefit – we'll see 50,000 people coming into the city every other weekend."
He added that Sky TV had already taken up residence at one of his buildings near the City Ground and said a number of players have been moving into the area.
Stack said that, even if Forest do go down, their promotion would still leave a legacy in terms of investment.
James Bridgett, associate architectural technologist at Acres Architects, added that Forest would receive parachute payments in the event of relegation, which could result in a swift return to the top flight.
"That seems to be some clubs' business model", he said, seconding Stack's analysis and citing Norwich City as an example.
In conclusion, Edward Acres noted that investment in city centres like Nottingham is "a cultural thing now."
"Working from home has changed the way people think about city centres", he said.
"They're becoming more of a destination and more culturally focussed. Fewer and fewer businesses are returning post-pandemic. If we want to encourage more people to live in our city centres, we need to recognise the historical significance of the area and its culture and incorporate those ideas into our designs."
Panel:
Edward Acres, Acres Group
James Bridgett, Acres Architects
Alan Forsyth, Hockley Developments
Sam Monk, Monk Estates
Tony Moore, Acres Construction
Maz Patel, Scope Construction
Anna Peng, iHome Plus
Dan Stack, Chevin Homes
Steve Taylor-Wilson, Acres Group
Jinny Yang, JYD Group
Ian Evans, TheBusinessDesk.com
Thanks to our sponsors Acres Group and to Tank PR for hosting