MAB picks design firm for new Derby HQ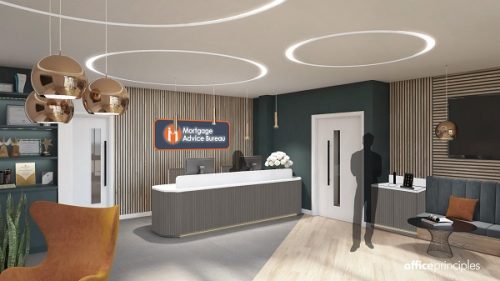 Brokerage company, Mortgage Advice Bureau (MAB), has appointed interior design consultancy Office Principles North to design and refurbish its headquarters in Derby.
More than 13,000 sq ft of office space will be redeveloped at the three-storey Capital House on Pride Place.
Office Principles North will create a series of open plan workplace "neighbourhoods", meeting rooms, breakout spaces and a large ground floor space.
Gary Tailby, joint managing director of Office Principles North, said: "Many businesses are facing the challenge of delivering workplaces that are capable of retaining and attracting staff post-Covid.
"MAB recognises that its people want to work in a modern office environment that offers a greater choice in how and where they work and socialise, and provides a more attractive alternative to working from home. We're proud to be delivering a headquarters building that makes the very best use of available space and allows people to maximise their day."
Claire Smith, people and culture director, MAB, said: "Diversity, equality and inclusion remain a significant focus for MAB, and have been fully incorporated within our state-of-the-art office refurbishment. We understand that all our employees have different needs in terms of their wellbeing and how they work, which is why the new office includes a variety of spaces such as focus areas, pods, and a dedicated wellness room.
"We're delighted with the design that Office Principles North has created to completely transform and optimise the space, and we look forward to seeing our colleagues thrive, connect and collaborate in their new office."
The new workplace is expected to be finished the first quarter of the year.