Contractor takes off with £15.4m Air and Space Institute job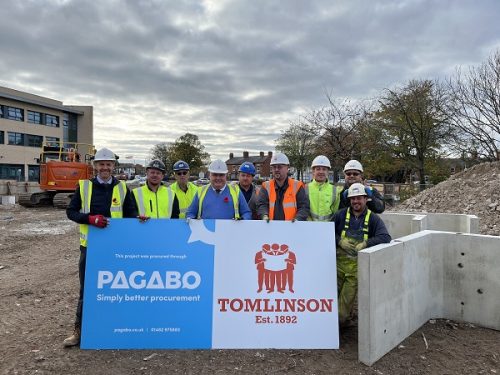 Midlands-based contractor G F Tomlinson has won the contract to design and build the new £15.4m Air and Space Institute (ASI) for Newark College, part of the Lincoln College Group, at the former cattle market site in Newark.
The ASI will help school leavers aged 16-18 to train for pilot, engineer and ground crew roles in airlines, the military, airports and logistics companies across the UK and abroad.
The new three-storey building, which is due to complete at the end of 2023, will be only the second of this type of college building to be built in the UK and will provide world-class training for the air and space industry, accommodating a full-sized Airbus A318 for hands-on teaching experience, alongside a double height entrance hall, large open space hangar, flight simulator, teaching zones and lecture and seminar areas for students and staff. The scheme will be finished off with a combination of soft and hard landscaping works.
The project was procured through the Pagabo National Framework for Major Construction Works.
Chris Flint, managing director at G F Tomlinson said: "We are delighted to be appointed as main contractor on the ASI which offers state-of-the-art training for students at a brand-new campus in the heart of Newark.
"We are extremely pleased to have secured this project under the Pagabo National Framework for Major Construction Works. Through our early contractor involvement and close collaboration with the Client team, we look forward to turning Lincoln College Group's vision into a reality by providing a world-class training facility for young people throughout the region."
Lincoln College group director of ASI and strategic growth, Tom Marsden, said: Lincoln College Group Director of ASI and Strategic Growth, Tom Marsden added: "Like the whole of the town, we're hugely excited about the progress being made on site and we can't wait to see the building. Young people completing their GCSEs this year can apply for our engineer, pilot, space engineering, groundcrew and military pathways now and they will benefit from these fabulous new facilities during their course, as well as the chance to fly in our ASI aircraft and flight simulators."
Councillor David Lloyd, co-chair of Newark Town Board and leader of Newark and Sherwood District Council, said: "It is fantastic to see the vision for the Air and Space Institute coming to life in Newark and I know many local people are looking forward to having this huge asset in our district. Providing skills locally is a key driver for the whole package of projects being funded under Newark's Town Fund initiative.
"The ASI will be a huge boost for Newark's inspiring generations of future pilots, ground crew and engineers to see its new home when it is completed. It will help shape the ambition for Newark's future, making it a place people want to live, work, study and visit and I look forward to seeing the progress over the forthcoming years."