Food wholesaler set to create 120 jobs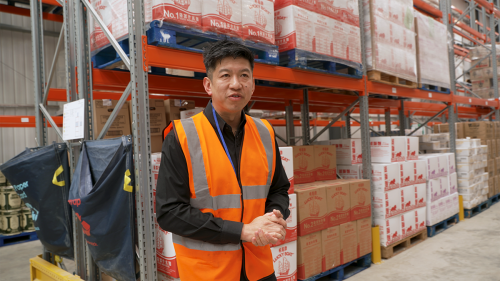 Food wholesaler Ocean King is expanding and is relocating from its 5,000 sq ft base in Loughborough to new premises in Derby.
The firm's new base stretches to 32,000 sq ft and includes offices and a warehouse.
It also has nap pods, a language school, shared professional services spaces, a wellbeing cafe, trade and public counters and solar panels – a far cry from the single frozen food truck with which Steven Thai and his dad started the business 26 years ago.
"We've worked really hard for this, and we're not done yet," said Thai, managing director.
"It's hard to imagine that this will be our base," he added. "We're so excited about it.
"We won't stop at this one. Our growth strategy sees us opening more bases like this over the next decade."
Thai has received support along the way from the Business Gateway Growth Hub.
The Growth Hub is part-funded by the European Regional Development Fund (ERDF) and provides support for business growth in Leicester and Leicestershire.
It is delivered in partnership with Leicester City Council, Leicestershire County Council, East Midlands Chamber (Derbyshire, Nottinghamshire, Leicestershire) and the Leicester and Leicestershire Enterprise Partnership Limited (LLEP).
"With this project and with the business in general we have received support from the Growth Hub," said Thai, whose business launched in Loughborough and continues to have a site in the town.
"When it comes to the new base, they have signposted us to contacts in the field of environmental sustainability and other areas of potential funding.
"The team is always on hand to offer advice, ask challenging questions, and make suggestions. It's always good to have an extra opinion on these things."
Ongoing development work is not limited to infrastructure changes.
Thai and his team also have plans to grow the Ocean King workforce from 30 full-time employees to 150 over the next three years.
Digital Growth Programme support helped the firm with its digital growth and a grant helped to finance software bringing sales, warehouse and logistics on to one operating system.
While the current ERDF funding ends in June, support from the Business Gateway Growth Hub will remain.
"Their support and signposting makes a huge difference," said Thai. "We're looking forward to completing this move and then planning the next phase with the Growth Hub's help."