How a Nottingham business became one of the UK's biggest online pharmacies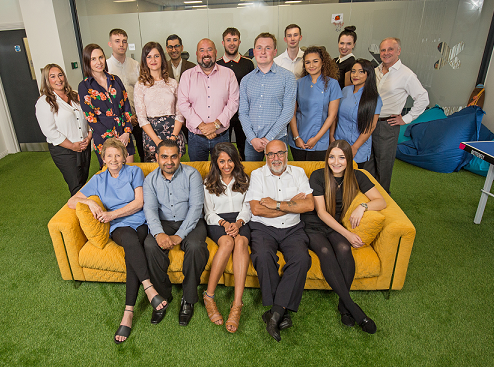 Once an online portal bringing in orders to be dispensed by a partner pharmacy, UK Meds is now one of the biggest online pharmacies out there, serving more than 200,000 loyal patients. TheBusinessDesk.com spoke to managing director and founder Joe Soiza about the growth of the Nottingham-based business.
When long-term asthma sufferer Joe Soiza ran out of his inhaler and found himself unable to get a GP appointment in September 2015, the businessman had a lightbulb moment.
He realised there were likely to be lots of other people who, just like him, needed access to healthcare when they couldn't get to their doctor's surgery.
Joe turned to his tech-savvy son, Mason, and tasked him with building a website. After partnering with a local dispensary to make sure orders could be fulfilled, the UK Meds website was born in March 2016.
Just 30 minutes after launch, the first order was made. And, shortly afterwards, the website was bringing in between 100 to 200 requests daily.
"It has always been our mission to provide healthcare with a difference," said Joe, who is originally from Clifton.
"People don't want to spend time on the phone trying to get a doctor's appointment, and those with chronic conditions can't take time off work each month to pick up prescriptions.
"The reasons are vast, but one thing unites the people we aim to serve – they all want a prescription service that's simple, convenient and delivered directly to their door."
While UK Meds remains keen to keep things quick and easy for its patients, the team behind the family-run business are also aware that they aren't selling T-shirts.
"The fact that we provide prescription medications means that, while ease of use and good customer service is important to us, patient care and safety remains our top priority," said Joe.
"We have put many measures in place – with more to be announced soon – and we invest heavily in new technology to ensure patients are confident that it's safe to access the items they have a medical need for online."
In its first year, UK Meds turned over more than £4 million. And in August 2017, the team moved to a small office space in West Bridgford, Nottinghamshire. The following month, with business continuing to boom, Joe and Mason decided it was time to bring operations in-house – and opened a small pharmacy space in their new office, hiring a superintendent pharmacist and dispensers.
In March 2019, after continued employee growth to cope with demand and further reinforce patient safety, Joe and Mason invested in a brand-new space in Castle Marina, Nottingham.
The new pharmacy area had plenty of room to stock additional lines, and a recreation room – complete with artificial grass, beanbags and a table tennis table – was created to encourage teams to socialise and celebrate success.
"As well as investing in technology and the safety of our service, we also want to ensure we attract the best talent to work for us," said Joe.
"We're a proud Nottingham organisation that has large-scale ambitions, is dedicated to nurturing and developing our staff, and is keen to make a difference to people's lives."
In June 2019, as the business rounded up its third year, its turnover grew to £9 million – and it's expected to reach £12 million in 2019/20.
"With advanced biometric identity checks and a large over-the-counter product range, we've certainly evolved a lot since our humble beginnings," said Joe.
"But we don't just want to stop there. We're striving to be pioneers in the industry and are constantly on the hunt for ways to make our business safer, simpler and more of a one-stop shop, putting our patients – and their safety – at the forefront of everything we do."